So off we went to Lisbon! we had never been there before and we were looking forward so much to visiting a new city.  The trip didn't start too well though, our flight to London Heathrow was delayed 45 minutes, we then had to change terminals and go through another security search, which was so backed up we missed our flight to Lisbon!  I must say I think Heathrow is absolutely horrible to transit through, the staff on the security search are so rude, the seem to deliberately move at a snails pace, the more people complained, the worse their attitude.  I am all for high security, that was not the issue, it was the appalling treatment of the passengers, and their seeming delight that they were causing people to miss flights, that area of Heathrow need a huge overhaul, Pierre flatly refuses to go through Heathrow ever again, and I can't really blame him.  So we made our way to the British Airways desk and the agent was just lovely, she got us on the last flight out, landing in Lisbon at 11pm, since we had a 5 hour wait, she kindly let us use the Executive Club, so we enjoyed free food and an open bar, it certainly helped the situation!.  We finally got to our hotel in Lisbon at just after midnight, The Sheraton, and the place was buzzing! the staff greeted us so warmly and told us there was live music in the rooftop bar until 1.30am! Lisbon is definitely a place with a huge nighttime culture, as the taxi was driving us to the hotel we noticed traffic jams, at midnight!.
So after finally getting to bed at 1.30am, we woke up the next day in Lisbon! We had 4 full days ahead of us with no where to be and nothing to do! We spent each morning exploring this wonderful city, we loved the Praxo do Comercia, which is the main square at the waterside, we particularly enjoyed having lunch at the Museum of Beer and also Rib, all on the square, lovely food and very reasonable prices.  Indeed Lisbon is very cheap, a 15 minute taxi ride is only 6 euros, a good glass of wine is only 4 or 5 euros, we bought some wine and beer at the supermarket for the hotel room and wine was cheaper than water!
Praxo do Comercia
Museum of Beer bar & restaurant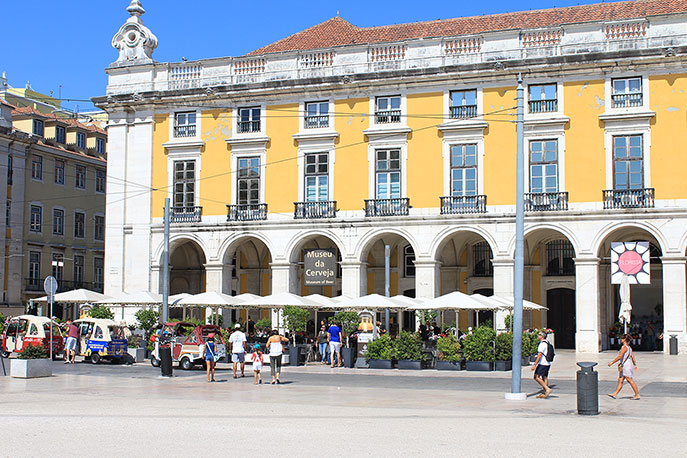 We explored all the streets leading down to the square, lots of lovely shops, tons of restaurants of every kind, street performers, it really is a fun and exciting and very vibrant city, the people are extremely friendly and most of all you feel very safe here.
One of our favourite things was the tram ride up towards to castle.  We were trying to fathom out how to buy a ticket, but you can just pay when you get on, 3 euros per person, each time you board, so if you get off, you pay when you get on again.  A lovely chap, who was trying to sell us a tour on his Tuk-tuk, of which there are endless amounts of!, advised us not to wait in the very long queue for the famous Tram 28, but to take Tram 12, it's a shorter tour but you see nicer views, he was right, there was hardly any queue and off we went, we got off at Alfama, a lovely little spot with great views, restaurants and little shops, lovely garden areas and you can walk to the Castle from there.
Alfama
Just as we decided to take a taxi back down, Tram 28 stopped almost in front of us, so we hopped on and enjoyed a very scenic 20 minute ride back down the hill, I highly recommend trying the tram, it was so much fun!.
We usually went back to the hotel after lunch and relaxed by the pool for a couple of hours before getting ready to go out to dinner.  I researched restaurants around the area of the Sheraton and we ate at two fantastic places and one rip off horrible place.  We loved the Maracana restaurant, we ate the best grouper ever! we also loved Il Giardinetto, which was an excellent Italian place and very cheap!  The place we had the worst experience was called Cisterna Restaurant, which was so odd it's going to get it's own blog – coming shortly!
Il Giardinetto
Something we also like to do is find out where the top place is and go and have a cocktail, as it happened the Panorama bar and restaurant is located on the rooftop floor of the Sheraton Hotel! Words can hardly explain the beyond magnificent view of all of Lisbon, right down to the water! The delicious wines were 8 euros a glass, obviously!, but they serve a little tray of snacks, the chairs are so comfortable and the view is unmissable.
Finally, the last place I want to tell you about is the Time Out Market.  This is an exciting, fun place, there are dozens of food vendors, we ate the cod fish cakes and tried the famous local pastry –
Pastel de Nata (Custard Tart) – literally melts in your mouth!  There is a full market at the side of the food area, plus other types of vendors.  The chefs cook in front of you and you can either sit at the counters of the stalls or in the central bench area.
In all we adored Lisbon and would return anytime and hopefully soon!
Happy Travels my lovely readers.  xx